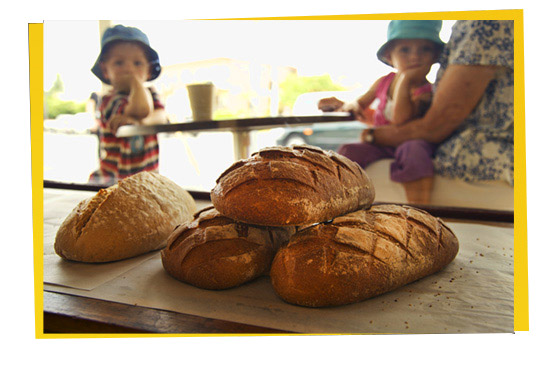 The Sol Breads story began in 1997 in the basement of a local West End restaurant, born of a desire to create a range of naturally leavened, organically based healthy and nutritious bread.
The original bakers worked long hours, toiling over the leavens, hand mixing and shaping the loaves, loading the ovens, and driving the finished product to the few dedicated customers. Within a very short space of time, it was obvious that Sol had grown beyond the basement, and a new site was found in cosmopolitan West End. With a dedicated distributor in Byron Bay, and a fast growing demand in the local community and beyond, the ovens at Sol Breads were always busy.
The first Sol Breads café opened at our West End site in 1999 as a response to growing demand. From the beginning, we have provided a range of fresh, healthy and wholesome food all produced on the premises to our own high standards. The food is neither fancy nor expensive, but is the type of food that we ourselves like to eat on a daily basis.
Over the past few years, more and more people have requested dietary specific offerings and our menu now includes a range of wheat, gluten and dairy-free products. Tarts, pizzas, slices, cakes, muffins, pastries, sandwiches, seasonal salads and soups as well as organic coffee and teas are now available daily.