Not all bread is created equal.

Artisan is a term you see a lot in the food world these days. But it's always worth finding out the real story behind the label.
The name you can trust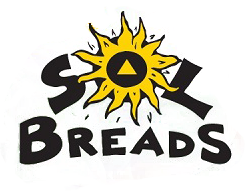 Foremost for Sol Breads is quality.
Quality in the care we give to our bread, our traditional methods, certified organic ingredients, and the way we closely monitor every handmade loaf to be certain it comes out of the oven perfectly.
It's a time consuming process, different from mechanical mass production. As with so many things, the key is care and patience – and lots of it.
Most mass-produced bread contains chemicals and additives to speed things up. The result is pretty average bread.
By contrast, our slow fermentation process gives the dough hours to develop. This allows the enzymes to react with the flour for an incredible depth of flavour, texture, and a myriad of benefits for your gut and digestion.
Of course, this detail of attention and quality has its price. But it also has its worth.
There's no match for the quality, flavour and wholesomeness comparing mass-manufactured bread.
Here's how to spot a true artisan loaf:
It's made by a person, not a machine.
The key ingredients should be flour, water, salt and yeast. That's it.
The variable shape of each loaf will show the care and attention of the hands that made it. A twist here, a groove there. The beauty comes in the difference.
And the aroma? Pure joy.
Visit a Sol Breads café or stockist and grab a real artisan loaf for yourself.
You'll wonder why you didn't try it earlier.