Spelt makes a comeback. The best new grain has a long history.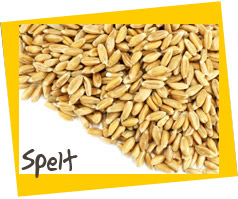 Sometimes the original ideas are still the best. The wheel hasn't changed much in thousands of years, and tasty and nutritious spelt, one of the first grains to be grown by early farmers as long ago as 5,000 BC, is finding renewed popularity with Australian consumers.
Spelt's "nutty" flavor has long been popular in Europe, where it is also known as "Farro" (Italy) and "Dinkle" (Germany). In Roman times it was "Farrum", and origins can be traced back early Mesopotamia. Spelt (Triticum spelta) is a ancient and distant cousin to modern wheat (Triticum aestivum). Spelt is one of the oldest of cultivated grains, preceded only by Emmer and Elkorn.
Buy a Spelt loaf from our online shop
But it's not just good taste that has caught the attention of consumers. The grain is naturally high in fibre and contains significantly more protein than wheat. Spelt is also higher in B complex vitamins and both simple and complex carbohydrates. Another important benefit is that some gluten-sensitive people have been able to include spelt-based foods in their diets.
Some 800 years ago Hildegard von Bingen (Saint Hildegard) wrote about spelt: "The spelt is the best of grains. It is rich and nourishing and milder than other grain. It produces a strong body and healthy blood to those who eat it and it makes the spirit of man light and cheerful. If someone is ill, boil some spelt, mix it with egg and this will heal him like a fine ointment."
What brought the decline in production of spelt in North America is now thought of as a benefit. Spelt has a tough hull, or husk, that makes it more difficult to process than modern wheat varieties. However, the husk, separated just before milling, not only protects the kernel, but helps retain nutrients and maintain freshness. Modern wheat has changed dramatically over the decades as it has been bred to be easier to grow and harvest, to increase yield, and to have a high gluten content for the production of high-volume commercial baked goods. Unlike wheat, spelt has retained many of its original traits and remains highly nutritious and full of flavour.
Also, unlike other grains, spelt's husk protects it from pollutants and insects and usually allows growers to avoid using pesticides.
Since its reintroduction to the market in 1987 spelt has become a top-selling product in the organic and health food markets. Flour made from the versatile grain can be substituted for wheat flour in breads, pasta, cookies, crackers, cakes, muffins, pancakes and waffles.
Modern cooks are rediscovering the full flavour of whole grain spelt pastas and breads, the more subtle flavor and texture of white pastas and flours as well as spelt kernels in their dishes.
Cooking with Spelt flour is similar to cooking with wheat flour. You can make all the same dishes such as pancakes and waffles, muffins, cakes, crackers and cookies, pastas and breads. Because of its lower gluten content, however, you will probably not wish to let it rise as high as regular wheat flour bread. When baking, Spelt flour doesn't require as much water – if substituting spelt flour for wheat flour in your favorite recipe, start by using only 3/4ths as much water.
(Sourced from www.waltonfeed.com)
Spelt is a truly amazing grain!
Spelt is a popular and healthy product for the following reasons:
  Spelt is an excellent substitute for wheat and may be more easily digested for those with wheat sensitivities
  In wheat, the vital nutrients are contained in the bran and wheat germ which are usually removed in the production of flour. In spelt, these vital nutrients are contained throughout the grain and are therefore not lost in the milling process.
  Being highly water-soluble (more so than wheat), spelt nutrients can be absorbed by the body with a minimum of digestive work.
  Spelt is naturally very high in fibre which aids in maintaining good bowel health and may assist in reducing cholesterol levels.
  Spelt contains approximately 10-25% more protein than wheat.
  High in B group vitamins, especially thiamine and vitamin B6.
  High level of L-Tryptophan which may promote and aid in the production of serotonin.
  Contains higher levels of all 8 essential amino acids needed by the human body
  Spelt has a low glycaemic index
Allergy Considerations
Although not gluten-free (therefore not suitable for those with celiac disease), it has been suggested that the protein in spelt may be more easily digested than regular wheat – making it suitable for some people who can not tolerate wheat.
| | | |
| --- | --- | --- |
| Amino Acids mg/g fresh weight | Wheat | Spelt |
| Cystine | 1.10 | 1.35 |
| Isoleucine | 4.40 | 5.60 |
| Leucine | 6.00 | 9.00 |
| Methionine | 2.40 | 4.00 |
| Phenylalanine | 5.00 | 7.00 |
| Threonine | 5.50 | 5.60 |
| Lysine | 2.90 | 2.75 |
| Tryptophane | 1.20 | 1.80 |
| Valine | 4.20 | 5.80 |