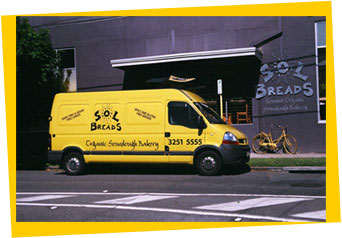 Sol Breads delivers fresh organic sourdough bread, pastries and cakes across Metropolitan Brisbane, Queensland in general and Northern NSW to health food stores, restaurants, hotels, cafes, delis and organic growers markets.
Sol Breads also delivers via Australia Post nationwide its yummy range of organic wheat sourdoughs, wheat alternative sourdoughs and the best gluten free sourdough you can buy. These loaves are baked in tins and specially packaged to preserve freshness and extend shelf life.
Please Contact Us for more information on how to become a SOL Breads stockist.